Natural Stone and Walls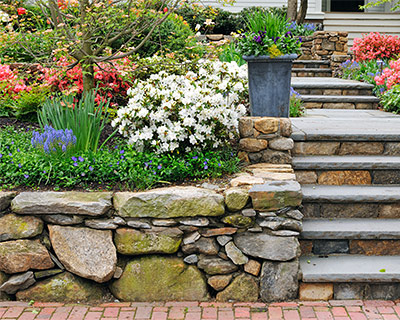 No other material can quite compare to the beauty of natural stone. It comes in a variety of textures and colors and adds a distinct charm to your property. Natural stone will ensure that your house looks rich and luxurious. Walls made from stone, or with stone veneers on them look natural and rustic. They somehow appear to be a part of the landscape. This makes stone ideal for outdoor walls and other such installations.

At Worms Hardscaping & Landscaping, we have worked on several projects in Mohnton, Pottstown, Lebanon, Hamburg, and Chester County that require walls. We have installed garden walls, boundaries, sitting walls, etc, on several properties. Our clients have always seen the beauty of natural stone tiles. Some of our clients in Reading, Lancaster, Leesport, Berks County, and Shillington have used walls as a creative way to enhance the décor of their home.


Different Kinds of Walls
Natural stone has been used in the construction of wall for centuries now. It is a very resilient material that requires skill and experience to install. Our masons will build walls that would withstand the test of time. Some of the walls that we can build are listed below.


Sitting Walls – These walls usually surround the patio, giving it a form and shape. They are typically low enough to be comfortable to sit on as well. They're great for backyards with limited space as these walls kill two birds with one stone. Sitting walls are also found around fire pits and they save space as well. They can be used to demarcate spaces in your landscape, giving it some structure.


Garden Walls – They are very charming installations that become a natural part of your landscape. You can let vines and creepers grow on them, create sitting walls out of them, etc. Garden walls have been used as a design element for hundreds of years now and they still remain quite popular. If you want to add rustic and natural beauty to your landscape, you should add garden walls to it. These can also have waterfalls, bringing and interesting look to your garden.


Boundary Walls – If you want extra security for your property, you can install natural stone boundary walls on your property. They provide privacy and make sure that your home and your family is safe. They can also be great additions to the overall design of your home.


Decorative Walls – The sole purpose of these walls is to add a rustic design element to your home. They can be a part of a water cascade or simply a divider wall to separate a portion of your backyard from another. Our designers can help you decide where to install these walls to enhance the look of your landscape.


If you want to know more about our services, feel free to get in touch with us at Worms Hardscaping & Landscaping. Just give us a call on 610 777 4444. You can also fill in this contact us form with your questions. We will reply as soon as possible.